It's difficult to picture what schoolwork was like before the internet. We have a plethora of websites, tools, and software at our fingertips to assist us with research, cross-referencing, and composing essays, among other tasks.
To assist you even further in your studies, Chrome extensions are an excellent approach to automate your schoolwork. The possibilities are endless: you may generate automatic citations, check your writings, store relevant infographics and memes for an upcoming project, and much more!
Because extensions are simple to use and are integrated directly into your browser, they're also excellent at keeping you focused on your job – and, in some situations, completely free of distraction.
Therefore, before you end an afternoon of "studying" with little to show for it, here are some fantastic Chrome extensions that you can install in less than a minute to maximize your learning!
1. Grammarly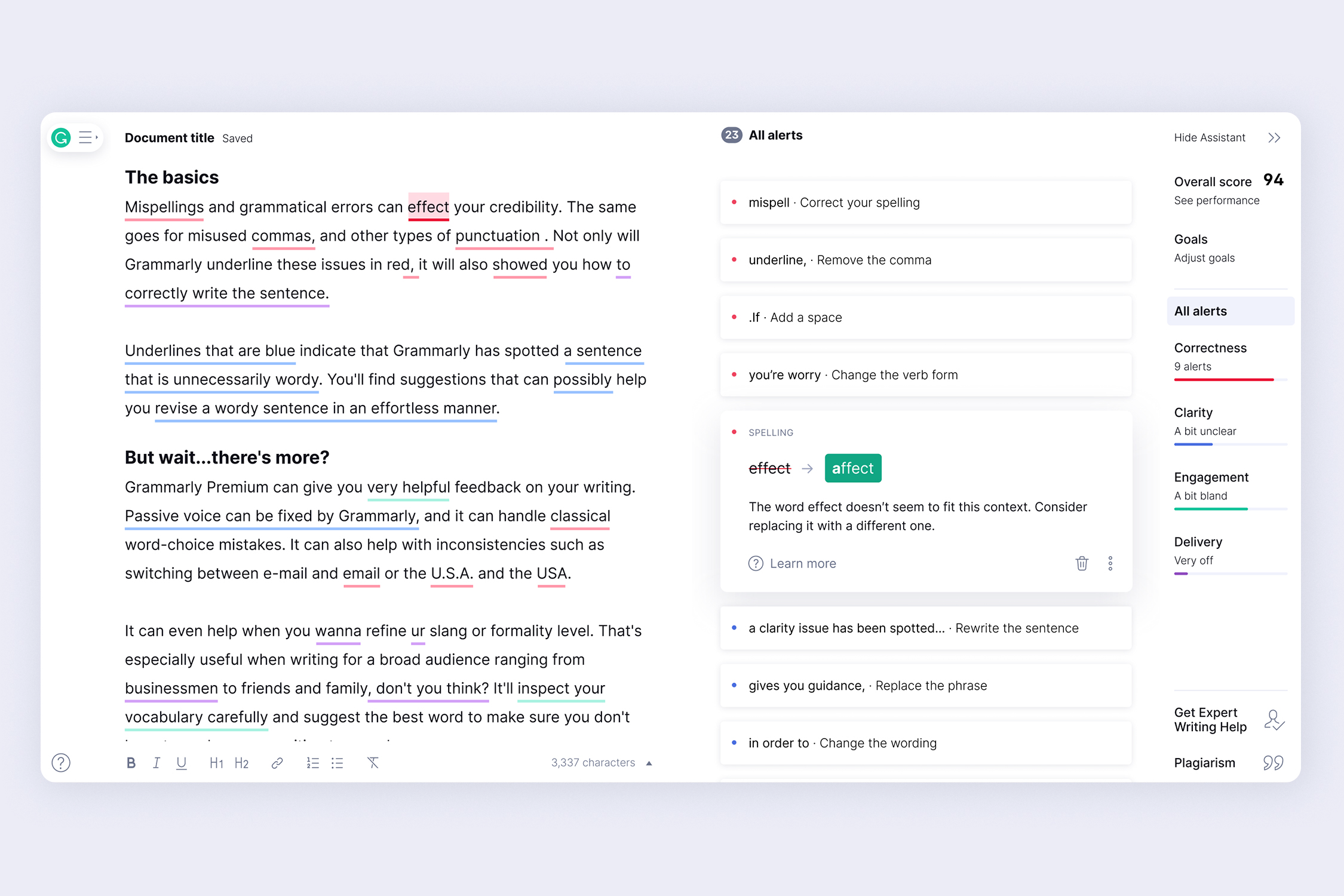 With the Grammarly Chrome Extension, you can ensure that your college essays and reports are error-free. Grammarly
It might be challenging to explain your thoughts effectively, even more so when you are brimming with ideas for an essay or a topic about which you are passionate. Fortunately, you may use Grammarly to assist you in making your essays and tasks more comprehensible. This is a sophisticated writing tool that identifies errors in your writing and instructs you on how to correct them.
Grammarly may be used to go over all your essays for spelling, grammar, clarity, style, diversity, and tone. It even provides explanations for its recommendations so that you can continue to enhance your writing!
What we adored:
Corrects grammatical and spelling issues in real time
Highly useful for non-native English speakers
Excellent online grammar reference library
What could be enhanced:
Can be prohibitively expensive for college students
Occasionally detects errors that do not exist
2. Dualless
Have you ever felt jealous of classmates who can afford a two monitor setup? Dualless enables you to easily split your browser window in half with two clicks! It's an excellent technique to maximise the use of your computer screen without having to manually switch between tabs. Utilize this extension to complete prescribed readings and take notes, or to attend a meeting while taking notes.
The extension is uncomplicated and simple to use; once installed, a drop-down menu displays all of the different screen ratios available. Additionally, you can opt to split the two screens in half or stack them one on top of the other.
What we adored:
Allows you to switch between multiple windows
Adjustable in a variety of ratios
Simple to use
What could be enhanced:
Resets pinned tabs to their default state
When many windows are open, there is no control over which windows are resized.
3. Kami Extension
Do you miss doodling on handouts or making marginal notes? Kami Extension is a fun technique to ensure that you have absorbed all of your reading information completely. This free application enables you to edit and annotate PDF documents directly from your browser. Additionally, you can add text and drawings to documents.
Even better, Kami is available offline, allowing you to continue reading uninterrupted even if your internet connection is patchy.
What we adored:
Upload and share files with ease
Has inclusive learning tools for students with disabilities
Can be used as a document whiteboard overlay.
What could be enhanced:
The interface is not particularly intuitive.
It's difficult to utilise on a mobile device.
Also Check: Top 5 Programming Languages to Learn in 2022
4. Cite This For Me
If you despise preparing your bibliography, you'll like Cite This For Me. With a single click on the webpage you're currently viewing, you may rapidly generate a perfectly formatted citation. You can either copy and paste it into your text or create an online account to preserve all your citations. Additionally, you may quickly generate a comprehensive list of all your sources from your online account.
Cite This For Me is compatible with the Chicago, APA, MLA, and Harvard citation styles, among others.
What we adored:
Includes all of the most frequently used reference citation styles
Extremely quick and simple to use
Citations can be stored online in a user account.
What could be enhanced:
Too many in-app advertisements
Occasionally, the auto-citation feature omits critical details.
5. Noisli
Noisli is a Chrome addon that eliminates background noise to aid with studying. Photo courtesy of Ivan Samkov/Pexels
One of the most significant impediments to learning is the absence of background noise. Noisli is the solution to all of your troubles! This Chrome extension provides a variety of relaxing background sounds from which you may choose to assist you in concentrating on your job.
Additionally, the plugin includes a timer that allows you to programme the music to begin and end at predetermined times throughout your study sessions, as well as a minimalist text editor for distraction-free essay writing.
What we adored:
Combine and match a variety of background sounds to create the ideal ambiance.
Includes a timer for your study sessions.
You can share your sound combinations with students and friends.
What could be enhanced:
Does not operate in the offline mode
Certain features are only available as part of a Premium Plan.
6. MaintainFocusd
When you should be studying, do you find yourself going through social media or watching cat videos? Not any longer. StayFocusd temporarily restricts web pages in your Chrome browser to help you stay on track with your studies.
The Nuclear Option takes this a step further by completely blocking access to everything — save for the websites you have permitted. Once this option is selected, there is no way to turn off the blocking software until the countdown is complete!
What we adored:
Access to banned websites is completely disabled
The duration of blocking can be altered.
Allows for the restriction of subdomains, paths, pages, as well as graphics, forms, and games.
Developers are incredibly amusing — even more so when you're attempting to scam the extension!
What could be enhanced:
There is no mechanism to cancel the Nuclear Option if emergency access to locations is required.
Complications in the user interface
Nuclear Option is limited to a single appearance.